K-9's That Died While Still In Service
Police officers that have lost their K9's in the line of duty and
who would like to have their K9 partner added to the list,
please contact
James A. Cortina
( Please include documentation ).
The list below is a list of K-9'S that died while in service only.
A canine officer and his K9 share good friendship and become great co-workers with a unique bond of loyalty that is impossible to describe. When an officer loses his K9 partner it can be devastating for the officer and his family and marks the end of an intense relationship that many say defies description. This list below is dedicated to these special K9'S, some who have died protecting their partner or protecting their community. Services for these fallen K9'S draw leaders, citizens and uniformed handlers. Fire trucks cross their ladders, bagpipes and taps are played, black ribbons are worn across badges, wreaths and American flags are displayed… a fitting farewell for an officer of the law.
This list serves as a tribute to these special K9'S and also as a reminder to the dangers they face every day and lastly for their human partners to view these statistics and increase the safety of coming home together to enjoy another day of working with each other.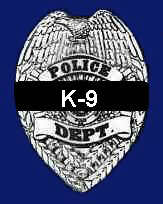 Thank you to all who help contribute data.
In alphabetical order by state abbreviations where K9 died.

TOTAL 2,839
2018
| | | |
| --- | --- | --- |
| K9 NAME | LOCATION | CAUSE OF DEATH |
| CAVIK | San Francisco, CA | Internal Bleeding |
| | | |
2017 (Total 188 )
K9 NAME
LOCATION
CAUSE OF DEATH

RICO

Alaska State Police

Shot / Hostile Gunfire

MARSHAL

Wasilla, AK

Cancer

LUKY

Hot Springs County, AR

Ruptured Diaphragm / Blunt Force Trauma

FLAK

Jonesboro, AR

Bone Cancer

ARCO

Little Rock, AR

Cancer / Euthanized

CYRUS

Kingman, AZ

Brucellosis / Euthanized

CHICO

Mesa, AZ

Cancer / Euthanized

RIGZ

Tucson, AZ

Unknown

INDY

Fresno, CA

Struck By Vehicle

JACK

Hemet, CA

Cancer

JAX

Milpitas, CA

Unknown

IVAN

Riverside, CA

Unknown

APOLLO

Roseville, CA

Natural Causes

JAX

Sunnyvale, CA

Stabbed

KAYTU

Tulare, CA

Unknown

KAR

Walnut Creek, CA

Unknown

JASON

Boulder County, CO

Bloat

DRAGON (MWD)

Fort Carson, CO

Cancer / Euthanized

HUNTER

Middletown, CT

Liver Cancer / Euthaniized

KILLIAN

Middletown, CT

Cancer / Euthaniized

ST. MICHAEL

Newtown, CT

Cancer

ZEUS

North Haven, CT

Cancer / Stomach

HENK

Mliford, DE

Unknown

PEDRO

Broward, FL

Shot / Hostile Gunfire

EDO

Charlotte, County FL

Struck By Vehicle

ZEUS

Fort Myers, FL

Cancer / Euthaniized

HOOCH

Jacksonville, FL

Unknown

REMY

Lakeland, FL

Cancer / Euthaniized

COLE

North Palm Beach, FL

Surgery

FRECKLES

Okaloosa County, FL

Heat Exhaustion

JESSIE

Orlando, FL

Natural Causes

JAX

Port Orange, FL

Unknown

DIESEL

Sebastian, FL

Heat Exhaustion

NERO

Adairsville, GA

Struck By Vehicle

KENZO

Bibb County, GA

Unknown

RECON

Douglasville, GA

Cancer

DUKE

Floyd County, GA

Cancer

KYRO

Houston County, GA

Shot / Friendly Fire

PALOMA

Jenkins County, GA

Unknown

FREDY

Thomson, GA

Spinal Injury / Euthanized

IVAN

Coralville, IA

Cancer /

Euthanized

ROOK

Ada County ID

Unknown

DASTY

Boise, ID

Cancer

KINA

Caribou County, ID

Natural Causes

EDDIE

Alsip, IL

Cancer /

Euthanized

DRAGO

Cook County, IL

Heat Exhaustion

KID

Macom County, IL

Seizure

ARIES

St. Charles, IL

Fluid Bilt Up

BOSS

St. Clair County, IL

Bloat

DEGEN

Wood River, IL

Cancer /

Euthanized

CAMO

Indiana State Police

Degenerative Myelopathy / Euthanized

DARRO

Brownsburg, IN

Struck By Vehicle

MOJO

DeKalb County, IN

Heat Exhaustion

NICO

Lebanon, IN

Struck By Vehicle

OZ

St. Joseph County, IN

Cancer / Euthanized

ZIVA

Coffeyville, KS

Unknown

BIZ

Dickinson County, KS

Struck By Vehicle

ROOSTER

Wichita, KS

Shot / Hostile Gunfire

KANE

Bell County, KY

Struck By Vehicle

BANE

Louisville, KY

Natural Causes

ROSCOE

Crowley, LA

Shot / Hostile Gunfire

MAX (MWD)

Fork Polk, LA

Unknown

TURBO

Grant Parish, LA

Brain Tumor

DASTY

Arlington, MA

Unknown

BRONSON

Boston, MA

Unknown

KODA

Brockton, MA

Unknown

IVAN

Essex County, MA

Unknown

AXE

Franklin, MA

Unknown

JORI

Great Barrington, MA

Bloat

ROCKY

Lublow, MA

Cancer / Spleen / Euthanized

RONY

Plymouth, MA

Unknown

THOR

Salem, MA

Choked On Chicken Bone

GEOX

Tewksbury, MA

Cancer / Spine / Euthanized

CHARON

Wilbraham, MA

Unknown

JET

Pocomoke, MD

Struck By Vehicle

TRON

Prince George County, MD

Cancer

BLEK

Queen Anne's County, MD

Seizure

BEAR

Casper, ME

Unknown /

Euthanized

GUNTHER

Old, Orchard Beach, ME

Unknown

PIVOT

Maine State Police

Unknown

ORI

Antrim County, MI

Struck By Vehicle

RANGER

Forest Lake, MN

Heart Attack

RAY

Houston County, MN

Struck By Vehicle

FIGO

Farmington, MO

Unknown

TUNDRA

Jasper County, MO

Cancer / Esophagus, Stomach / Euthanized

ARGO

Normandy, MO

Fall

PUNTER

Perryville, MO

Unknown / Euthanized

REX

Hinds County, MS .

Natural Causes

ARON

Lauderdale County, MS

Heat Exhaustion

BOY

Richland, MS

Unknown

GUNNER

South Haven, MS

Heat Exhaustion

CHASE

Lenoir, NC

Unknown

STITCH

Chapel Hill, NC

Unknown

CONAN

Macon County, NC

Cancer / Prostate / Euthanized

SHREK

Morganton, NC

Hips / Euthanized

DAN

Randolph County, NC

Cancer /

Euthanized

IKE

Rowan County, NC

Stroke

ODIN

Troutman, NC

Cancer

CHRIS

Yancey County, NC

Shot / Hostile Gunfire

LUNA

Bismarck, ND

Cancer

NIKO

Dickinson, ND

Bloat

ROCKNE

Grand Island, NE

Kidney Failure / Euthanized

KANE

Otoe, NE

Unknown

MAX

Lebanon, NH

Cancer /

Euthanized

BOOMER

Atlantic City, NJ

Cancer / Stomach

DEUCE

East Greenwich Township, NJ

Internal Bleeding

HANNAH

Millville, NJ

Unknown

BLADE

Edina, MN

Cancer

RAY

Las Cruces, NM

Surgery / Cancer

SITA

Buffalo, NY

Unknown

WAZI

Cheektowage, NY

Cancer / Heart

MYCAL

NYC D.E.P.

Cancer

WILL

New York State Police

Shot / Friendly Fire

FALCONE

M.T.A. NY

Bloat

REGIN

North Tonawanda, NY

Cancer /

Euthanized

HAWK

Rochester, NY

Natural Causes

MIKY

Saugerties, NY

Unknown

JAEGER

Ada, OH

Struck By Vehicle

DIABLO

Crestwood, OH

Cancer / Spine

EKKO

Eastlake, OH

Unknown

DINO

Green Township, OH

Unknown

JUNIOR

Pataskala, OH

Unknown

ARON

Pickaway, OH

During Emergency Stomach Surgery

BAK

Shaker Heights, OH

Cancer

OKTANE

South Euclid, OH

Cancer

BENY

Owasso, OK

Unknown

ZENA

Stillwater, OK

Bloat

HOOCH

Tulsa, OK

Unknown

BLEK

Eugene, OR

Struck By Vehicle

ODIE

Hillsboro, OR

Cancer / Euthanized

BILLY

Hillsboro, OR

Vehicle Crash

BRUNO

Keizer, OR

Bacterial Infection

RICO

Portland, OR

Swallowed Foreign Object/ Euthanized

MAGNUM

Cumberland County, PA

Cancer

RONY

Greencastle, PA

Struck By Vehicle

VEGAS

Huntingdon, PA

Natural Causes

MIXO

Pittsburgh, PA

Unknown

NIKO

Poconos, PA

Unknown

ABBY

Jamestown, RI

Cancer

LENNY

Columbia, SC

Bloat

DOKI

Jasper County, SC

Heat Exhaustion

FILIP

Lake City, SC

Unknown

TOSCA

Richland County, SC

Seizure / Euthanized

CZAR

Pine Ridge, SD

Unknown

LUCY

Bradley County, TN

Struck By Train

CAIN

Crossville, TN

Stabbed

REN

Greene County, TN

Struck By Vehicle

ARON

Jackson, TN

Cancer

BLITZ

Austin, TX

Cancer

KIM

Bay City, TX

Struck By Vehicle

RUDIE

Brownsville, TX

Bloat

EROS

Edinburg, TX

Cancer

MARKO

Graham, TX

Spleen

ENDY

Cache County, UT

Heat Exhaustion

DINGO

Millcreek, UT

Shot / Hostile Gunfire

CZAKO

Alleghany, VA

Cancer

DUKE

Newport News, VA

Intestinal Torsion

HAMMER

Newport News, VA

Dental Surgery

MOE

Virginia State Police

Unknown / Euthanized

BRICK

Bellingham, WA

Torsion In Blood Vessels

REIGN

Chehalis, WA

Unknown

FRITZ

Cowlitz County, WA

Unknown

NUKE

Monroe, WA

Intestinal Disorder

ISKO

Republic, WA

Cancer

KILO

Black River Falls, WI

Heart Murmur / Euthanized

DAGGER

Franklin, WI

Training Injury

FEIT

Green Bay, WI

Unknown

MINK

Jefferson County, WI

Bladder Tumor

ECHO

Green Bay, WI

Bloat

GROUSE

Ceredo, WV

Seizure

TITAN

Martinsburg, WV

Cancer / Euthanized

WACO

Quennsland, Australia

Heat Exhaustion

SABRE

Quennsland, Australia

Lung Cancer / Euthanized

JERU

Quennsland, Australia

Struck By Vehicle

FURY

British Columbia, Canada

Surgery

KASH

Toronto, Canada

Unknown

REBEL

Vancouver, Canada

Unknown

TITAN

Waterloo, Canada

Unknown

TIKA

Winkler, Canada

Unknown

KYLE

Nottinghamshire, England

Unknown

AMINIKA

Burhapahar, India

Explosion / IED

CRACKED

Chhattisgarh, India

Explosion / IED

MEGA

Kerala, India

Unknown

MICHAEL

Yangon, Myanmar

Bloat

SAN MI

Tanintharyi,

Myanmar

Heart Attack

GRIZZ

Auckland, New Zealand

Shot / Friendly Fire

HADES

Wellington, New Zealand

Cancer / Euthanized

SAM

Aberdeenshire, Scotland

Vehicle Crash, Euthanized
2016 (Total 185 )
K9 NAME
LOCATION
CAUSE OF DEATH

BAK

Helena, AL

Cancer

HELO

Alaska State Police

Shot / Hostile Gunfire

HONOR

Benton, AR

Unknown

ARES

Benton, AR

Unknown

LINA

Madison County, AR

Heat Exhaustion

AMIGO

Kingman, AZ

Heat Exhaustion

LARA

Ore Valley, AZ

Unknown

LYKA

Alameda, CA

Spinal Injury / Euthanized

TY

California City, CA

Broken Back

WARCO

Fremont, CA

Auto Immune Dysfunction

SONY

Fresno County, CA

Bloat

ZEUS

Indio, CA

Cancer

CREDO

Long Beach, CA

Shot / Friendly Fire

AXEL

Merced, CA

Bloat

IDOL

Porterville, CA

Heat Exhaustion

JOJO

San Bernardino, CA

Unknown

FRANK

Sonoma County, CA

Lymphoma

JAG

Twin Rivers, CA

Struck By Vehicle

BRUNO

Brookfield, CT

Spinal Injury / Euthanized

JASPER

New London, CT

Hips

CYRUS

Trumbull, CT

Unknown

THOR

Wethersfield, CT

Internal Bleeding

ROBBIE

Alachua County, FL

Heat Exhaustion

QUANTUM

Aventura, FL

Surgery

TITAN

Brooksville, FL

Cancer / Euthanized

DAX

Okaloosa, FL

Cancer / Euthanized

OZZY

Orlando, FL

Cancer

HENNY

Palm Beach County, FL

Surgery

KUDA

Sarasota, FL

Cancer

BILLY

Sebring, FL

Heat Exhaustion

FOREST

Volusia, FL

Shot / Friendly Gunfire

INCA

Cherokee County, GA

Heat Exhaustion

TRYKO

Doraville, GA

Set Backs From Stabbing

FALCO

Habersham County, GA

Fire

DEEK

LaGrange, GA

Unknown

ELKO

Lawrenceville, GA

Cancer

BAK

MARTA Police, GA

Unknown

PLUTO

Union City, GA

Unknown

HAWK

Clinton, IA

Cancer

ARNO

Bannock County, ID

Heart Attack

ROSCOE

Boise, ID

Vehicle Crash

JARDO

Boise, ID

Shot / Hostile Gunfire

ARCHIE

Bloomington, IL

Cancer

CAPONE

Carlinville, IL

Natural Causes

BOB

Chicago, IL

Cancer

/ Brain

RACHEL

Chicago, IL

Cancer

/ Spine

MALO

Macon County, IL

Natural Causes

BLITZ

Montgomery County, IL

Heat Exhaustion

NAUTIC

Rantoul, IL

Unknown

QUINTY

Urbana, IL

Unknown

LANDO

Winthrop Harbor, IL

Unknown

LEO

Carmel, IN

Congenital Defect

DYZIO

Clinton County, IN

Unknown

ANDRE

Elwood, IN

Unknown

DIBO

Hamilton County, IN

Heart Cancer / Euthanized

KILO

Indiana State Police

Unknown

ROCKY

Indianapolis, IN

Natural Causes

BRAVO

Indianapolis, IN

Kidney Failure

EROS

Madison, IN

Bloat

AREN

Plainfield, IN

Unknown

KAYOS

Russiaville, IN

Cancer

TYSON

Fountain County, IN

Heat Exhaustion

BUCK

Whitestown, IN

Cancer / Brain

MAVERICK

Topeka, KS

Seizure

POCKO

Mt. Sterling, KY

Cancer / Euthanized

NIKO

Louisiana State Police

Cancer

DUKE

Richland Parish, LA

Heat Exhaustion

SARGE

Slidell, LA

Heart Tumor

REX

St. Tammany Parish, LA

Heart Attack

MIK

Middlesex, MA

Unknown

MATTE

Orange, MA

Lung Cancer

BODI

Anne Arundel, MD

Cancer / Euthanized

NARCO

Calvert County, MD

Natural Causes

NICKO

Ingram County, MI

Colonic Torsion

GOLIATH

Van Buren County, MI

Cancer

SABER

Wright County, MN

Cancer / Ruptured Tumor / Internal Bleeding

SARA

Licking, MO

Struck By Vehicle

JOEY

Osage, MO

Spleen

ADAM

Salem, MO

Unknown

ARAS

St. Charles County, MO

Liver Cancer / Euthanized

ZAR

St. Louis, MO

Cancer / Spleen / Euthanized

CARRIS

Pearl, MS

Struck By Vehicle

CANON

Ridgeland, MS

Natural Causes

KYRA

Simpson County, MS

Cancer

ALEC

Tupelo, MS

Struck By Vehicle

KEVIN (MWD)

Camp Lejeune, NC

Cancer

DAG

Cornelius, NC

Unknown

DIESEL

Kannapolis, NC

Heart Attack

PAYNE

Pembroke, NC

Shot / Hostile Gunfire

BAKS

Randolph County, NC

Cancer / Euthanized

KOA

Fargo, ND

Leg Injury / Euthanized

KOBUS

Omaha, NE

Shot / Hostile Gunfire

BOOMER

Cumberland County, NJ

Cancer / Euthanized

AXL

Egg Harbor, NJ

Degenerative Bone Disease

NERO

Mercer County, NJ

Unknown

BLAZE

Sussex County, NJ

Natural Causes

LORCAN

Union County, NJ

Cancer

TYSON

New Hampshire State Police

Cancer

BORIS

Las Vegas, NV

Unknown

NICKY

Las Vegas, NV

Shot / Friendly Fire

AMIS

Washo, NV

Natural Causes

ERNY

Onondaga, NY

Cancer

JAKE

Orange County, NY

Cancer

VAKI

River Head, NY

Neurological Infection

SCOOTER

Rockland, NY

Internal Bleeding

SUKI

Westchester County, NY

Heat Exhaustion

JETHRO

Canton, OH

Shot / Hostile Gunfire

EURO

Columbus, OH

Natural Causes

ARGO

Gallia County, OH

Kidney Disease

SEGER

Mount Gilead, OH

Cancer / Euthanized

UGANDA

Perkins Township, OH

Blood Clot / Surgery For Bloat

COLT

Stow, OH

Cancer

YUKON

Waynesfield, OH

Tumor

DASH

Broken Arrow, OK

Brain Tumor / Euthanized

BAK

Duncan, OK

Heat Exhaustion

COBUS

Purcell, OK

Unknown

BLACKJACK

Wilson, OK

Degenerative Medical Condition

WOMBAT

Woodward, OK

Bloat

NIXWA

Otis, OR

Shot / Hostile Gunfire / Attacked People

DAGO

Springfield, OR

Pancreas

TOTTI

Bellefonte, PA

Heat Exhaustion

JACK

Catasauqua, PA

Tumor

AXEL

Findlay, PA

Natural Causes

GRIZ

Hazleton, PA

Infection

PETRO

Springettsbury, PA

Cancer / Euthanized

AREN

Wilkinsburg, PA

Stabbed

ENZO

Coventry, RI

Natural Causes

BROCK

Rhode Island Dept. of Corrections

Heart Attack

BORIS

Rhode Island State Police

Natural Causes

FOX

Greenville, SC

Unknown

ROBBY

Richland County, SC

Cancer / Euthanized

DEXTER

Westminster, SC

Struck By Vehicle

DERRO

Loudon County, TN

Unknown / Euthanized

VIGOR

Monroe County, TN

Drowned

TITAN

Montgomery County, TN

Gastric Dilatation Volvulus

KILO

Whiteville, TN

Heat Exhaustion

BRUNO

Amarillo, TX

Ran Into Tree

MOJO

Alington, TX

Heat Exhaustion

NICKY

Beaumont, TX

Unknown

LEDGER

Cotulla, TX

Heat Exhaustion

GINO

Denton, TX

Unknown

LAZER

Falfurrias, TX - U.S. Border Patrol

Heat Exhaustion

PAXO

Fort Worth, TX

Unknown

MIRKO

Harris County, TX

Heart Attack

ZEKE

Ranger, TX

Unknown

REX

San Juan, TX

Heat Exhaustion

OGAR

Smith County, TX

Shot / Hostile Gunfire

CHICO

Williamson County, TX

Drowned

ROSSKO

St. George, UT

Bloat

ALDO

Unified, UT

Shot / Hostile Gunfire

DIESEL

Hampton, VA

Cancer

KRIJGER

Norfolk, VA

Shot / Hostile Gunfire

TEX

Petersburg, VA

Bloat

BETCHA

Danby, VT

Struck By Vehicle

REEFER

Chelan County, WA

Struck By Vehicle

CREMA

Seattle, WA (U.S. Coast Guard)

Kidney Failure

PATRICK

Washington State Police

Bloat

BLITZ

Barron, WI

Cancer

MARLEY

Brown County, WI

Cancer

COP

Green Bay, WI

Unknown

HARDY

Janesville, WI

Cancer / Spleen

KLAUS

Kenosha, WI

Cancer / Liver / Euthanized

UTOS

Marion, WI

Heart Condition / Euthanized

BELLA

West Virginia University, WV

Cancer

CHUCK

Australia

Natural Causes

MAVERICK

Hamilton, Canada

Unknown

HELO

Nova Scotia, Canada

Ingested Rocks & Rope

ARES

Orangeville, Canada

Natural Causes

DIESEL

Victoria, Canada

Unknown

DUKE

Gloucestershire, England

Natural Causes

FALCO

Lincolnshire, England

Killed Dog & Attacked Person / Euthanized

GHOST

Merseyside, England

Struck By Vehicle

?

Middlesbrough, England

Attacked Person & Handler

/

Euthanized

REBUS

Nottinghamshire, England

Struck By Vehicle

?

Bihar, India

Unknown

?

Bihar, India

Unknown

ARJUN

Rayalaseema, India

Natural Causes

RAMZIS

Pagegiai, Lithuania

Shot / Hostile Gunfire

GAZZA

Porirua, New Zealand

Shot / Hostile Gunfire

YODA

Tauranga, New Zealand

Unknown

GERALDINE

Butuan, Philippines

Tetanus

FANCY

Durban, South Africa

Cancer

FIONN

Kempton Park, South Africa

Poisoned

DOZER

KwaMadlala, South Africa

Stabbed

ALDO

Malmo, Sweeden

Degenerative Medical Condition
2015 (Total 169 )
K9 NAME
LOCATION
CAUSE OF DEATH

REBA

Alexander, AL

Gastronintestinal

MASON

Gulf Shores, AL

Heat Exhaustion

CLIP

Jemison, AL

Struck By Vehicle

NERO

Selma, AL

Cancer

VOX

Bay, AR

Shot / Hostile Gunfire

SAXON

Clinton, AR

Bloat

TITUS

Little Rock, AR

Heat Exhaustion

ZASSKO

Phoenix, AZ

Cancer

KAIN

Angels Camp, CA

Infection

NIKO

Fontuna, CA

Seizer

KALIMERO

Fremont, CA

Bloat

CARSON

Montebello, CA

Cancer / Euthanized

GILLEY

Rialto, CA

Cancer

JOJO

San Bernardino, CA

Unknown

SULTAN

San Jacinto, CA

Shot / Hostile Gunfire

PAVO

Santa Monica, CA

Unknown

DUKO

Pomona, CA

Cancer / Liver / Euthanized

NITRO

Stockton, CA

Heat Exhaustion

FOXY (MWD)

U.S. Naval Base - Ventura, CA

Unknown

FOROAN

Florence, CO

Allergic Reaction / Medication

FLASH

Jefferson County, CO

Cancer

NEECKO

Branford, CT

Bloat

GUNNAR

Connecticut State Police - Troop K

Struck By Vehicle

MORGAN

Federal Protective Service, CT

Cancer

LEX

Mashantucket, CT

Cancer / Euthanized

JOLLY (MWD)

U.S. Naval Sub Base - Groton, CT

Cancer / Euthanized

ZEUS

Citrus County, FL

Bloat

CHAR

Flagler, FL

Attacked Officer / Euthanized

INDY

Fort Myers, FL

Gastrointestinal

NALA

Havana, FL

Cancer/ Pancreatic / Euthanized

JIMMY

Hialeah, FL

Heat Exhaustion

HECTOR

Hialeah, FL

Heat Exhaustion

IGOR

Kissimmee, FL

Heat Exhaustion

NERO

Oviedo, FL

Cancer / Euthanized

KIMBO

Polk County, FL

Cancer

HERTA

Byron, GA

Bloat

ZANE

Conyers, GA

Heat Exhaustion

REX

Habersham County, GA

Cancer / Euthanized

BASTON

Savannah, GA

Heat Exhaustion

RIKO

Valdosta, GA

Cancer / Euthanized

HARRY

Audubon, IA

Vehicle Crash

JENKS

Cedar Rapids, IA

Unknown

REMCO

Sioux City, IA

Cancer / Liver, Spleen, Stomach

NIKKI

Tama, IA

Cancer / Lungs / Euthanized

BARRY

University of IA

Unknown /

Euthanized

GASPER

Bridgeview, IL

Cancer / Stomach / Euthanized

KAHVO

Charleston, IL

Digestive / Euthanized

SARI

Monroe County, IL

Natural Causes

TRUMAN

Anderson, IN

Cancer / Euthanized

FORREST

Clay County, IN

Natural Causes

BUDDY

Crown Point, IN

Cancer

RIDDIK

Salina, KS

Unknown

BISHOP

Flatwoods, KY

Chronic Bacterial Fungus

SAMU (MWD)

U.S. Army - Fort Campbell, KY

Cancer

KWINTA

Fulton County, KY

Heat Exhaustion

CAR

Braintree, MA

Cancer

ZAR

Duxbury, MA

Unknown

GROM

Springfield, MA

Ran Into A Stick

ALI

Weymouth, MA

Natural Causes

DINGO

Baltimore, MD

Heat Exhaustion

KOJACK

Baltimore, MD

Heat Exhaustion

BELLA

Maryland Correctional

Fire

HUNTER

Montgomery County, MD

Cancer / Euthanized

INEZ

( Arson K9 ) MD

Unknown

CHICO

Lewiston, ME

Unknown

ZANDO

Blackman-Leoni Township, MI

Cancer / Pancreas / Euthanized

REGGIE

Morrice, MI

Struck By Vehicle

GASK

South Haven, MI

Bloat

HONDO

Three Rivers, MI

Cancer

MAJOR

Anoka, MN

Unknown

DUTCH

Minneapolis, MN

Choked On Ball

TREXX

Gideon, MO

Poisoned

DAX

Lebanon, MO

Struck By Vehicle

BODO

St. Charles, MO

Cancer

CHEWBACCA

Hancock County, MS

Snake Bite

SOLO

Morton, MS

Cancer / Euthanized

WILFREED

Ocean Springs, MS

Irritable Bowel Disease

GUNNER

Avery County, NC

Dog Fight

MONCEY

Brunswick County, NC

Cancer / Spleen

MAKO

Shelby, NC

Dog Fight

RAMOS

Thomasville, NC

Cancer

JONTAR

Dakota, NE

Bacterial Infection

KONY

Lincoln, NE

Cancer / Euthanized

MOJO

Omaha, NE

Unknown

RUDY

Saunders County, NE

Natural Causes

ZERO

Camden, NJ

Natural Causes

FALKO

Monmouth County, NJ

Lung Cancer / Euthanized

ATOS

Ocean County, NJ

Cancer

AXLE

Washington Township, NJ

Cancer / Euthanized

OZZY

Auburn, NY

Seizures

TAJA

Horsehead, NY

Unknown

ARCHER

Long Island, NY

Unknown

HOGAN

Saratoga, NY

Bloat

BRONSON

Akron, OH

Cancer / Liver

RYDER

Athens, OH

Fire

ROBBY

Cleveland, OH

Blood Disease

MARCO

Dayton, OH

Unknown

UDET

Franklin County, OH

Struck By Vehicle

BELLA

Marion, OH

Struck By Vehicle

GUNNER

Middletown, OH

Fire

SINTA

Northridgeville, OH

Cancer / Euthanized

FALCO

Toledo, OH

Shot / Hostile Gunfire

KASH

Warren County, OH

Cancer / Euthanized

HAMMER

Williams County, OH

Cancer

ZEKE

Muldrow, OK

Heat Exhaustion

SARGE

Tulsa, OK

Cancer / Euthanized

NEEKO

Coos County, OR

Vertabrae / Pinched Nerve / Euthanized

NASH

Klamath Falls, OR

Struck By Vehicle

NIKKO

Portland, OR

Cancer

REXO

Bethlehem, PA

Cancer / Euthanized

LADY

Fayette County, PA

Cancer / Euthanized

ROCKY

Heidelberg, PA

Cancer / Euthanized

BAUER

Montgomery Township, PA

Bloat

KITO

Quakertown, PA

Unknown

HYCO

Anderson County, SC

Shot / Hostile Gunfire

BLUE

Georgetown, SC

Fire / Euthanized

RUGER

Bristol, TN

Cancer

HERCULES

Camden, TN

Natural Causes

ARGO

Knoxville, TN

Cancer / Euthanized

BIEKO

Alice, TX

Seizure

BRUNO

Brownsville, TX

Heat Exhaustion

ARGO

Hidalgo County, TX

Cancer / Bone / Euthanized

TYLER

Houston, TX

Heat Exhaustion

JOLA

Jim Wells, TX

Heat Exhaustion

NEEKO

Rockwall, TX

Cancer / Spleen

DAYSI (MWD)

San Antonio, TX

Cancer / Euthanized

PEPPER

Wise County, TX

Shot / Hostile Gunfire

BO

Woodway, TX

Unknown

VOODOO

Cedar City, UT

Natural Causes

PAJKO

Cedar City, UT

Unknown

CAPONE

Salt Lake City, UT

Cancer

RYDER

Martinsville, VA

Tumor Ruptured / Internal Bleeding

REX

Shenandoah County, VA

Unknown

KUBO

Virginia Beach, VA

Cancer

KILO

Derby, VT

Struck By Vehicle

JAG

Port Angeles, WA

Cancer / Euthanized

HELIOS

Sunnyside, WA

Shot / Hostile Gunfire

BARNEY

Tacoma, WA

Inhaled Drug / Meth

JIMMY

Tukwila, WA

Struck By Vehicle

IKE

Vancouver, WA

Stabbed

WIX

Brown County, WI

Heat Exhaustion

PACKO

Fond du Lac, WI

Unknown

A-ROD

Grant County, WI

Bit Handler / Euthanized

REX

Madison, WI

Unknown

KENNY

Milwaukee, WI

Cancer

VIPER

Pierce County, WI

Infection

CHEETO

Racine, WI

Natural Causes

FRITZI

Bath, WV

Drowned Resulting From Vehicle Crash

ARTIE

Berkley, WV

Unknown

WILBUR

Fayette County, WV

Bloat

KOA

Lander, WY

Struck By Vehicle / Euthanized

HASO (MWD)

U.S.

Unknown

JONNY (MWD)

U.S. Air Force

Unknown

AKEEL

Tunisia, Africa

Shot / Hostile Gunfire

RUMBLE

Australia

Meningitis

TUNZA

Mackay, Australia

Unknown

VADER

Queensland, Australia

Natural Causes

NITRO

Guelph, Canada

Unknown

VISTA

Niagara, Canada

Cancer

MATRIX

Saskatoon, Canada

Struck By Vehicle

RILEY

Winnipeg, Canada

Cancer

NELSON

Cornwall, England

Unknown

DIESEL

Saint- Denis, France

Explosion

?

Germany

Shot / Friendly Fire

GOLDIE

West Godavari, India

Unknown

LUNI

Khammam, India

Unknown

CHEETAH

Kosapet, India

Cancer / Breast

MANSI

Kupwara, India

Shot / Hostile Gunfire

REX

Mumbai, India

Liver Infection

BRUNO

Ashburton, South Africa

Stabbed
2014 (Total 188 )
K9 NAME
LOCATION
CAUSE OF DEATH

TRACKER

Skipperville

, AL

Shot / Hostile Gun Fire

J-R

Irondale, AL

Ruptured Spleen / Euthanized

BENTON

Benton, AR

Autoimmune Disease

CHEWY

Little Rock, AR

Tumor

ZORG

Southwest, AR

Natural Causes

IKE

Buckeye, AZ ( D.O.C. )

Heat Exhaustion

DEUCE

Tempe, AZ

Natural Causes

DAX

Colton, CA

Cancer

TIMO

Fremont, CA

Blood Supply Cut Off To Colon / Euthanized

THUNDER

Marina, CA

Degenerative Myelopathy / Euthanized

BAXTER

Reedley, CA

Cancer / Euthanized

PETRA

Colorado Springs, CO

Fall / Euthanized

ZEUSZ

Berlin, CT

Cancer / Euthanized

HUNTER

Hamden, CT

Pneumonia

IKE

Hartford, CT

Unknown / Euthanized

MAJOR

Orange, CT

Struck By Vehicle

RUDY

Rocky Hill, CT

Unknown

WARDEN

Delaware Fish & Wildlife

Natural Causes

BUCK

Brevard, FL

Natural Causes

ASKO

Casselberry, FL

Surgery

IDOL

Palm Bay, FL

Cancer

CLUE

Palm Beach County, FL

Spinal Nerve Damage / Euthanized

ARGO

Panama City, FL

Lightning

COPPER

Pasco County, FL

Unknown

NERO

Sarasota, FL

Cancer

BARON

St. Augustine, FL

Drowned

DUTCH

Tampa, FL

Cancer

ADAM

Clayton County, GA

Brain Cancer

BRODY

Conyers, GA

Attacked By 3 Coyotes

MARCO

Fulton County, GA

Cancer / Euthanized

TANJA

Lookout Mountain, GA

Shot / Hostile Gun Fire

ANNIE

Honolulu, HI

Infection In Paw

OLD DAN

Bettendorf, IA

Cancer / Spleen

SARA

Motor Vehicle Enforcement, IA

Struck By Vehicle

DASTY 1

Boise, ID

Unknown

GOSH

Chillicothe, IL

Unknown / Euthanized

ATHOS

Decatur, IL

Bloat

SIMMIE

East St. Louis, IL

Heat Exhaustion

KOF

Granite City, IL

Cancer

JUSTIS

LaSalle, IL

Cancer / Pancreatic

ARON

Plainfield, IL

Natural Causes

ARRACK

Fishers, IN

Shot / Friendly Fire

LOKI

Gary, IN

Cancer / Liver / Euthanized

CARO

Marion, IN

Cancer

KODA

Oolitic, IN

Struck By Vehicle

BEAR

Atchison, KS

Kidney Failure

FIGO

Johnson County, KS

Natural Causes

DAX

Salina, KS

Unknown

ENZO

Boone County, KY

People Bitten / Euthanized

REX

Houma, LA

Bloat

JASKO

Shreveport, LA

Cancer / Ruptured Spleen

CHARIK

Concord, MA

Degenerative Myelopathy / Euthanized

MACHIKO

Hopkinton, MA

Bone Cancer /

Euthanized

BRUNO

Lowell, MA

Bloat

NERO

Pittsfield, MA

Cancer / Euthanized

BUZZY

Shrewsbury, MA

Unknown

CAESAR

Westminster, MA

Enlarged Heart / Euthanized

SIREN

Westport, MA

Poisoned / Euthanized ( Rat Poison )

DANTE

Massachusetts State Police

Pulmonary Hypertension / Seizures / Euthanized

KALLIE

Massachusetts State Police

Cancer / Euthanized

QUEEN

Hagerstown, MD

Lung Cancer

LIBERTY

Maryland Natural Resources

Natural Causes

IKE

Worcester County, MD

Struck By Vehicle

MIKE

Caribou, ME- U.S. Customs

Unknown

BREK

Charlevoix County, MI

Bone Cancer

REMI

Detroit, MI

Vehicle Crash / Ejected & Struck By Vehicle

YOGI

Grand Traverse, MI

Unknown

DIAGO

Livingston County, MI

Cancer / Prostrate

MAXX

Oakland County, MI

Natural Causes

APOLLO

Southgate, MI

Aneurysm

URICH

Blue Springs, MO

Unknown

URAC

Columbia, MO

Unknown

BRUNIE

Kansas City, MO

Dysautonomia / Euthanized

JAX

Lee's Summit, MO

Intestinal Cancer

ZEUS

Maryland Heights, MO

Heat Exhaustion

IKE

Brookhaven, MS

Cancer / Euthanized

TOMI

Hattiesburg, MS

Surgery

BONA

Pearl, MS

Struck By Vehicle

SHEP

Great Falls, MT

Attacked Handler / Euthanized

TOM (MWD)

U.S. Air Force Base-Malmstrom MT

Heart Attack

MAROS

Burke County, NC -U.S. Forestry

Shot / Hostile Gun Fire

DIEGO

Asheville, NC

Surgery Complications

CLYDE

Brunswick County, NC

Natural Causes

KELA

Duplin County, NC

Heat Exhaustion

SULLY

Graham, NC

Heat Exhaustion

GIDION

Greenville, NC

Cancer / Euthanized

GORKY

Mocksville, NC

Shot / Hostile Gun Fire

KANYON

Rocky Mount, NC

Unknown

ARKO

Wilmington, NC

Cancer / Euthanized

RINGO

Jefferson County, NE

Cancer

EDGE

Carroll, NH

Cancer

TIL

Salem, NH

Cancer

EVAN

Freehold, NJ

Cancer

ANKA

Glassboro, NJ

Struck By Vehicle

DIOGI

Holmdel, NJ

Cancer

EVAN

Monmouth, NJ

Cancer

DANO

Somerset, NJ

Natural Causes

ARON

Washington Township, NJ

Unknown

ROXIE

Woodbury, NJ

Unknown

XERO

Reno, NV

Liver Cancer

JOHNNY

Reno, NV

Intestinal Blockage

HAWK

Chenango County, NY (D.E.C.)

Fire

NITRO

Chenango County, NY (D.E.C.)

Fire

ZANDO

East Aurora, NY

Unknown

RADAR

Lewiston, NY

Cancer / Spleen

AXE

Middletown, NY

Unknown

CHAZ

M.T.A., NY

Unknown / Euthanized

HERO

M.T.A., NY

Degenerative Myelopathy / Euthanized

IBOR

Newburgh, NY

Unknown / Euthanized

PHOENIX

Port Authority P.D. NY

Cancer

SENECA

Westchester County, NY

Intestinal Blockage

FALCO

Butler County, OH

Spinal Problem / Euthanized

JET

Cleveland, OH

Degenerative Spine Problem / Euthanized

TINA

Dayton, OH

Cancer

ARNO

Fairfield County, OH

Brain Tumor / Seizures / Euthanized

J

Hacking County, OH

Perforated Bowel

KID

Hamilton County, OH

Unknown

TJ

Kettering, OH

Surgery Following Dental Procedure

KARMA

Lorain County, OH

Heart Attack

BENY

Medina, OH

Heat Exhaustion

AMIGO

Madeira, OH

Unknown

BELLA

Salineville, OH

Unknown

NINJA

Youngstown, OH

Kidney Failure / Euthanized

WESSEL

Lawton, OK

Intestinal / Euthanized

KYE

Oklahoma City, OK