2016 Wasson Memorial Award Winners Announced!
In 1993, The Connecticut Police Chiefs Association, in cooperation with the Connecticut Police Work Dog Association Inc., established "The Daniel Wasson Memorial Canine Award". Officer Wasson was a Milford, Connecticut Police Canine Officer who was shot and killed in the line of duty. Officer Wasson made the ultimate sacrifice; it is in his memory that these awards are given each year.
These annual awards are chosen from line of duty deployments submitted by Connecticut police canine teams that exemplify the highest tradition of police canine law enforcement. The award plaque honoring Officer Daniel Wasson and the winners of this prestigious award, hangs proudly in the lobby of the Connecticut Police Academy in Meriden, Connecticut.
The C.P.W.D.A. Award Nomination Committee forwarded all entries for the 2016 Daniel Wasson Memorial K-9 Award to the Connecticut Police Chief's Association who selected a committee to select the award recipients from nominations received throughout our state and were awarded on June 14, 2016.
This year the selection committee has unanimously selected Officer Martin Feliciano and his K-9 partner "Ax", of the New Haven Police Department, as the winner of the 2016 Daniel Wasson Memorial K-9 Award. This year's honorable mention recipients are: First runner up was Officer Joseph Roberts and K9 "Zo" of the New Haven Police Department. Second runner up, Officer Jonathan F. John and his K-9 partner "Sasa" of the Willimantic Police Department.
Winner

Officer Martin Feliciano & K9 Partner "Ax"

New Haven Police Department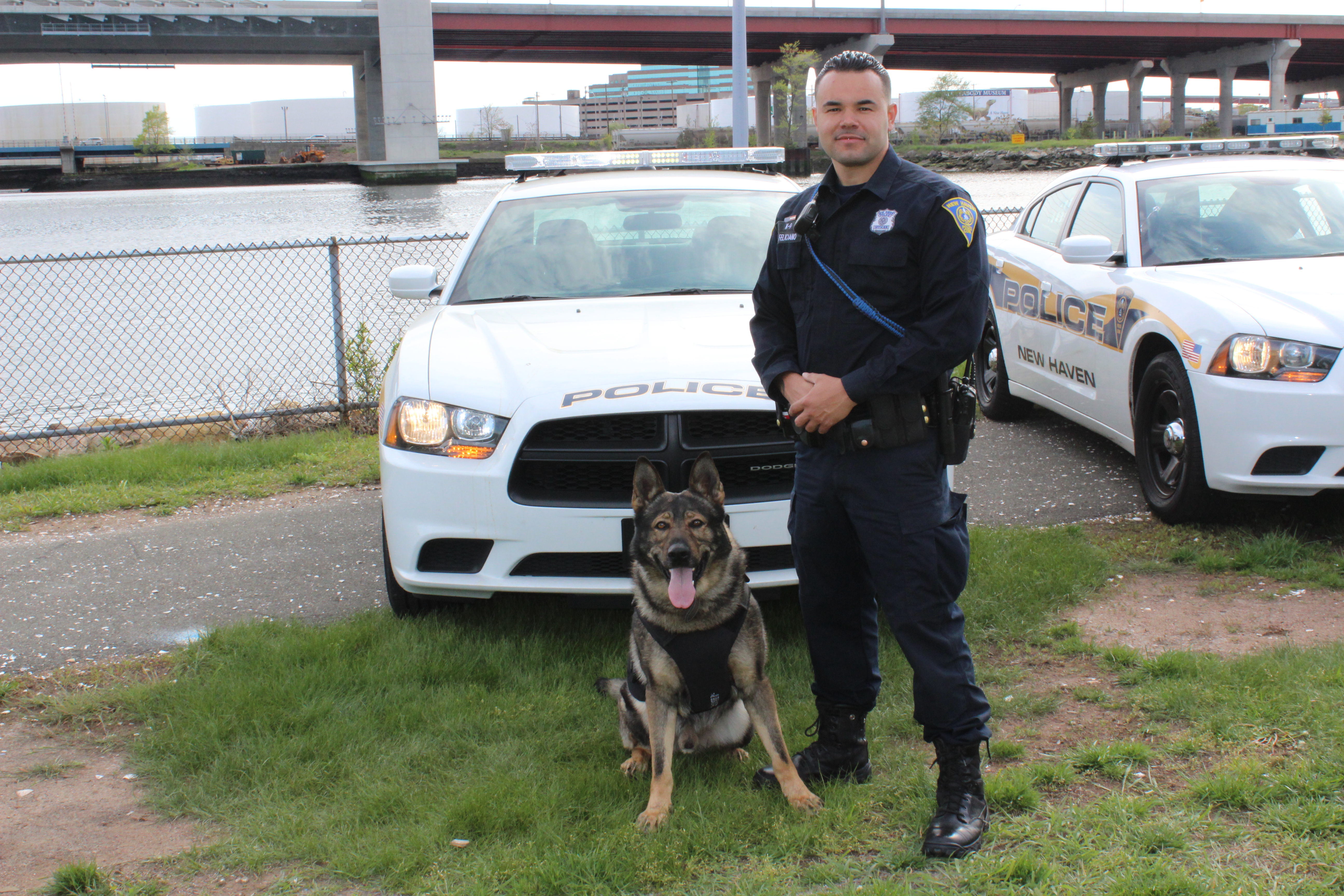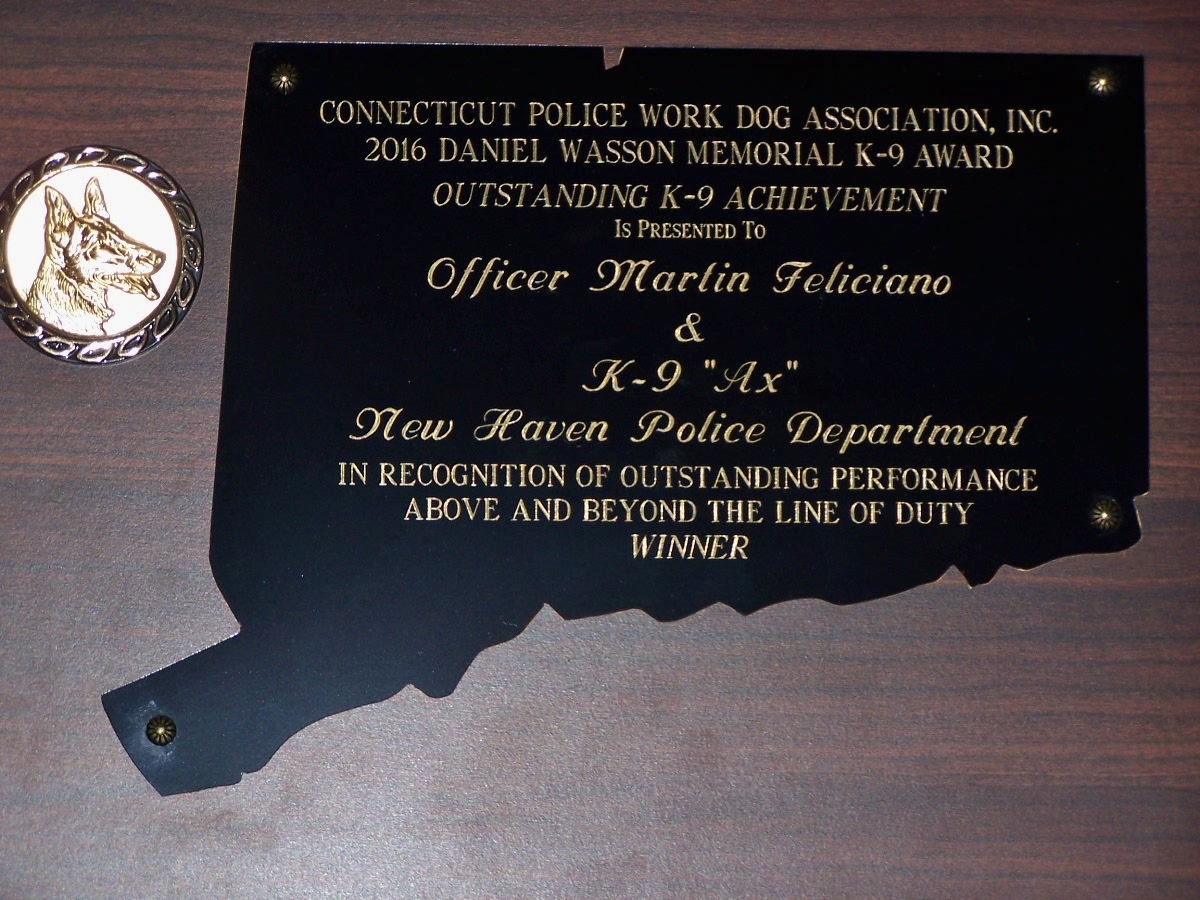 On 9/11/16 at 1658 Hours, Officers were dispatched to the area of Barnes ave and Donna Dr for an unknown weapons complaint. Upon arrival they observed a Hispanic male standing in the street holding a large silver knife. On scene Officers ordered him to the ground, handcuffed and detained him, moments later a Hispanic female came out from within the nearby residence with her hands bound together with a Zip tie. It was relayed through interpreters that two men armed with Black semi automatic handguns conducted a Home Invasion bound the above noted residents with Zip ties, pistol whipped one of them, robbed them and then fled the scene. Witnesses provided information and description of the suspects as they fled and noted an area that they stopped and appeared to hide something. On scene Officers checked the above noted area and located a loaded Black semi automatic handgun and several other items. Officer Feliciano and K9 Ax responded to conduct a track utilizing the suspects discarded evidence as a scent article. K9 Ax led Officer Feliciano to a thick marsh where he gave an indication that the suspects were hiding within the marsh. after giving announcements, both suspects surrendered without incident or harm to any other harm to citizens or Law enforcement.

1ST
Runner Up
Officer Joseph Roberts & K-9 Partner "Zo"
New Haven Police Department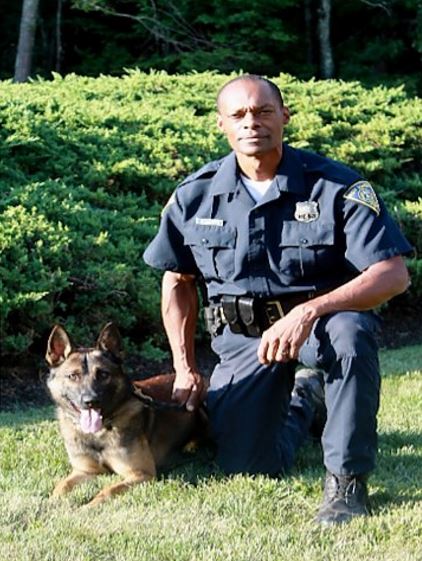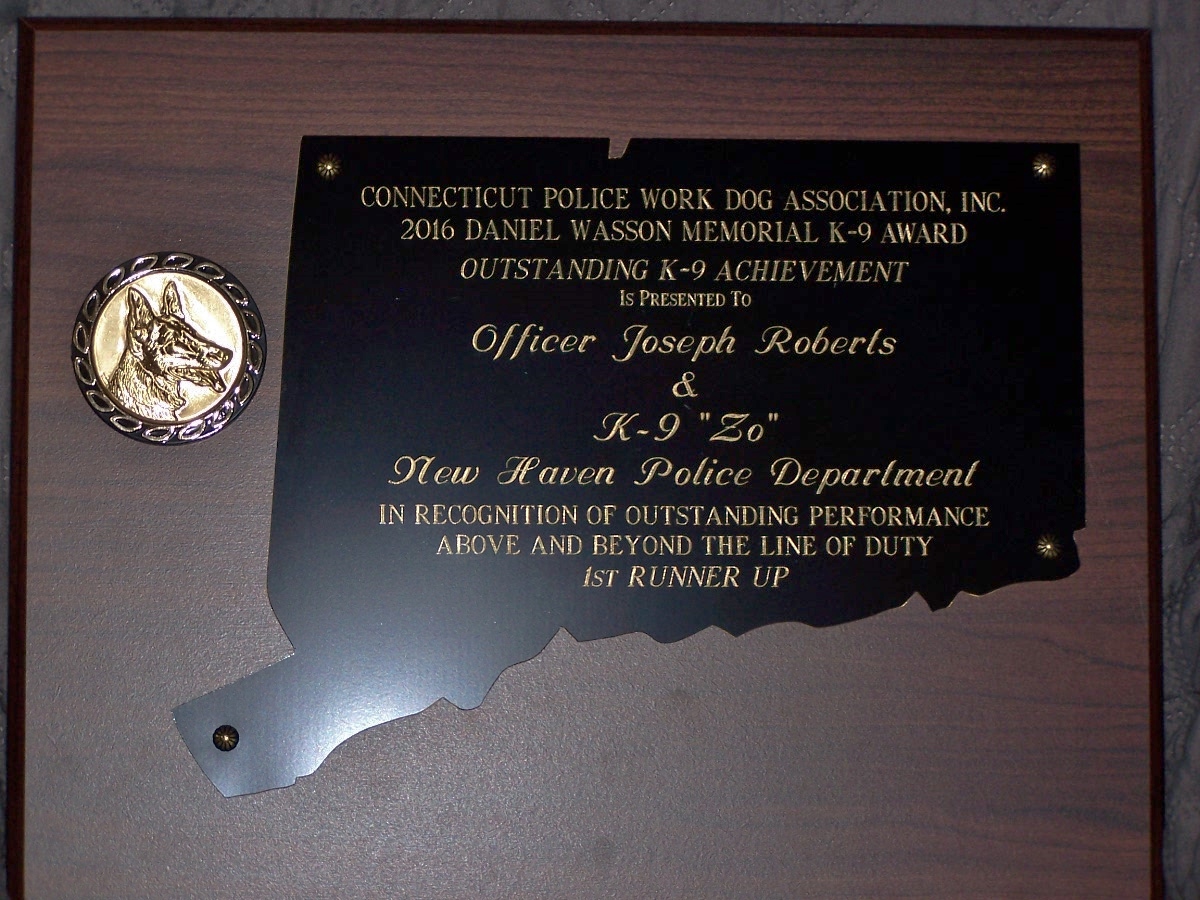 On 12/14/16 at 2354 Hours, Officers were dispatched to 1260 Quinnipiac Ave on the report of an armed Robbery of a local store. On scene Officers reported that a Black male dressed in all black wearing a Chicago Bulls hat displayed a handgun to the clerk and robbed him of $500 cash and cigarettes. A BOLO was put out with the information. Officer Roberts partnered with his K9 Zo were in the area when a subject matching the BOLO was observed walking, after illuminating him with a spotlight the male reached into his pocket attempting to pull something out, Officer Roberts observed the Butt to a Black handgun as the suspect began running still trying to clear the weapon from his clothing. Orders and announcements were given that a police dog would be deployed, the suspect ignored the announcements and continued to run. Police service dog ZO apprehended the suspect by the right forearm without injury to any Officers or civilians. Upon examine it was learned that the handgun was a BB gun after being recovered,no On scene Officers were forced into utilizing deadly force against a perceived threat due to the deployment and actions of Officer Roberts and K9 Zo.

2nd
Runner Up
Officer Jonathan F. John & K-9 Partner "Sasa"
Willimantic Police Department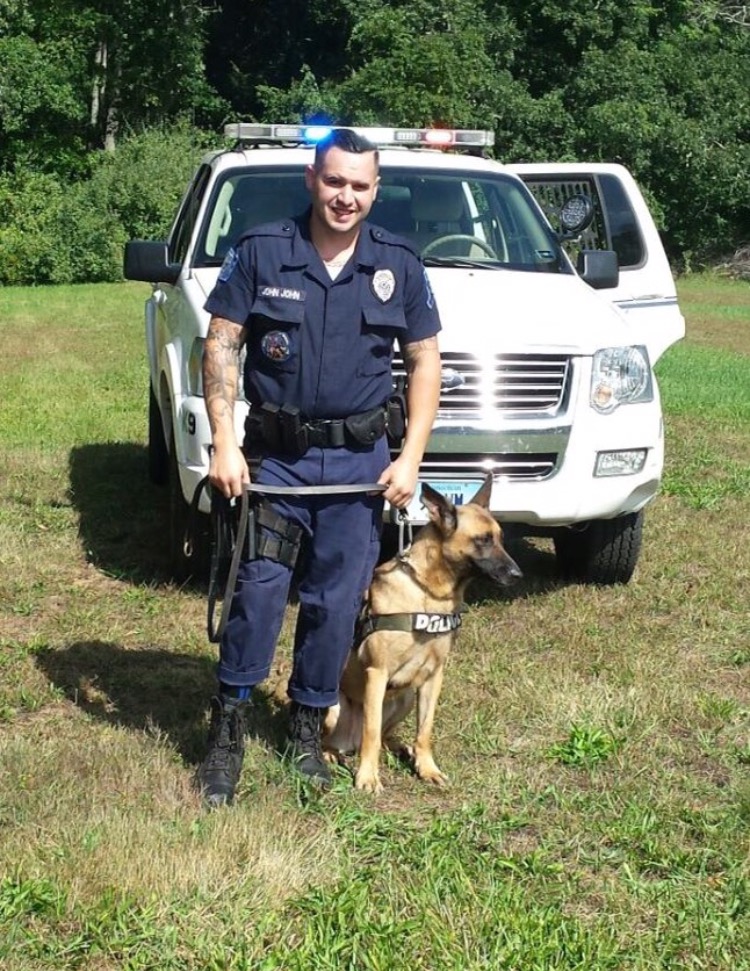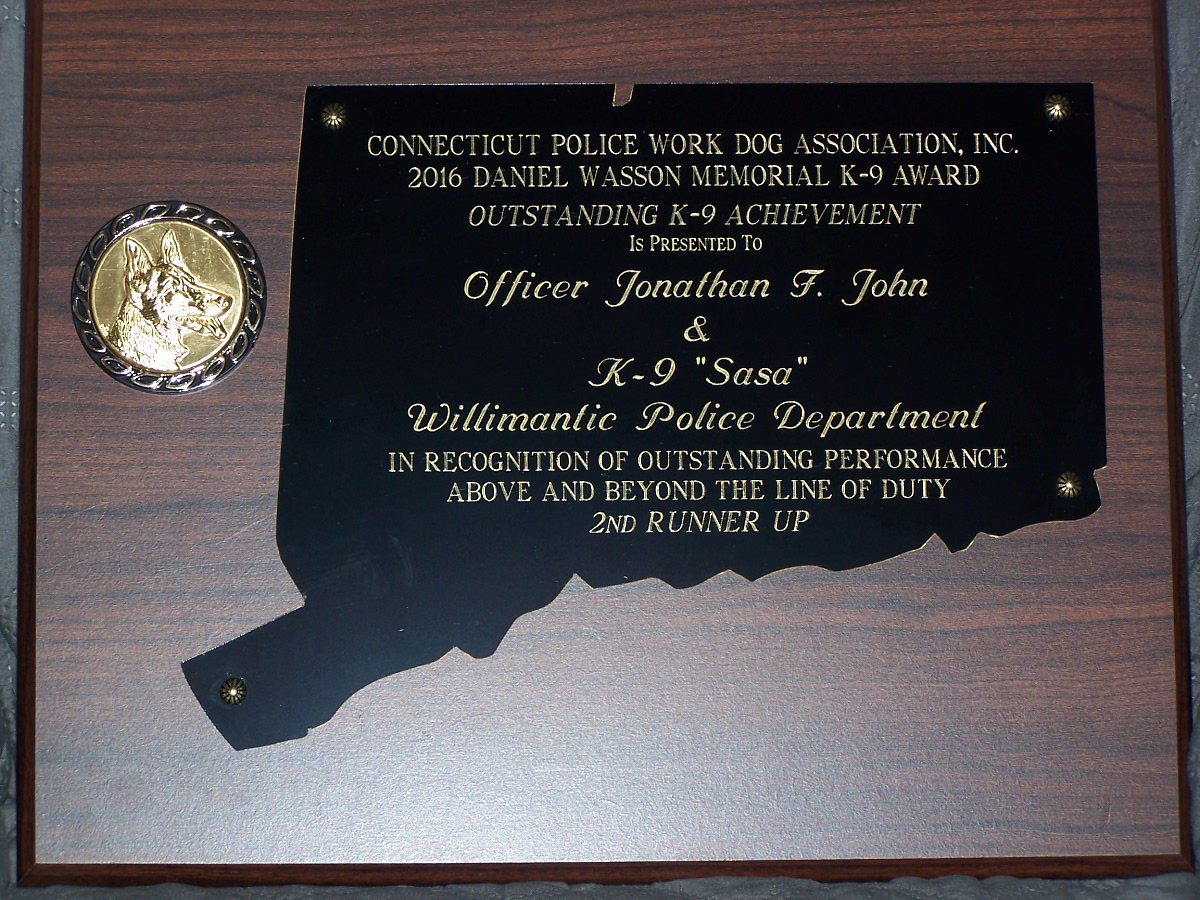 On 1/21/16 , Officer john John was dispatched to the windham Hospital on the report of a suicidal male who escaped from the Hospital prior to being evaluated. After receiving the information ,Officer John went to the males home address which was located three blocks from the Hospital where he observed him standing in the doorway. The male went inside and began barricading himself inside blocking doors and windows with furniture. a negotiator was brought in and through discussions it was learned that he was armed with a large knife and that he wanted to kill himself and anyone who entered his home.The male then relayed to police that he was gonna burn his house down. A determination was made to make entry into the home. Once inside the home , the male was observed at the top of a spiral staircase with his hands inside his waistband, after announcements and refusing to comply, Officer John deployed K9 Sasa who apprehended him by the foot area taking him off his feet, after a struggle with the K9 and on scene Officers , he was taken into custody, No Officers were injured despite the man possessing a knife when he was taken into custody.

2016 Detection Award
Officer Paul M. Hussey & K9 Titan
Willimantic Police Department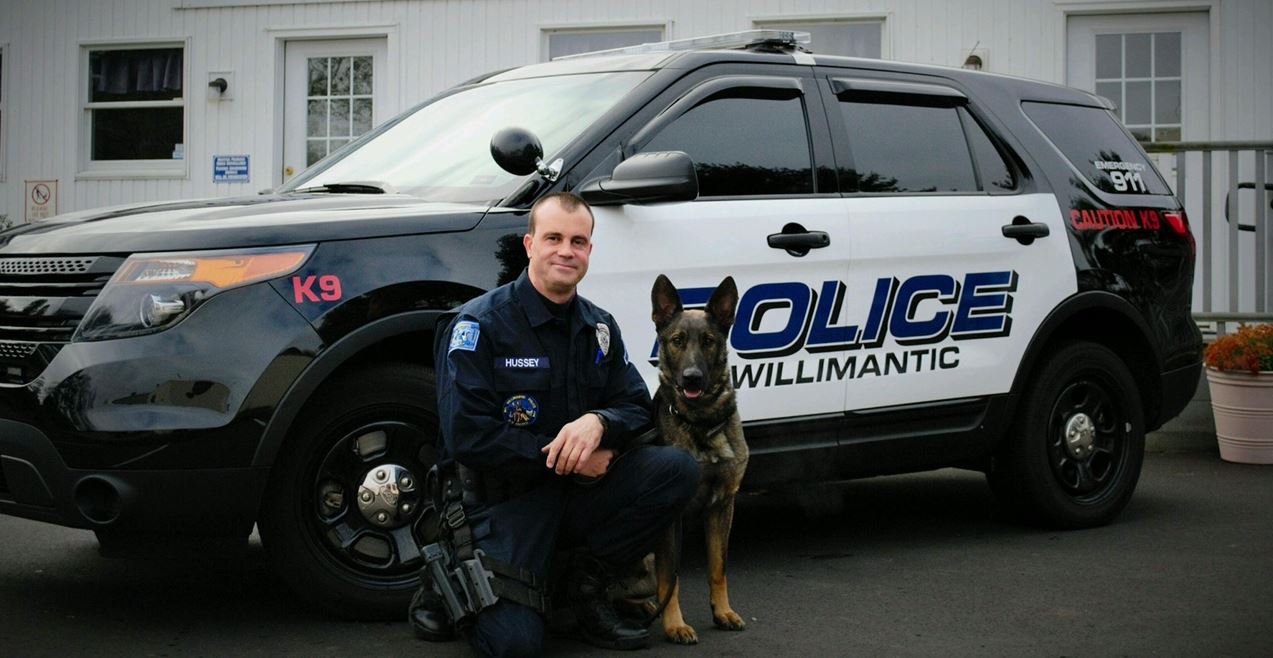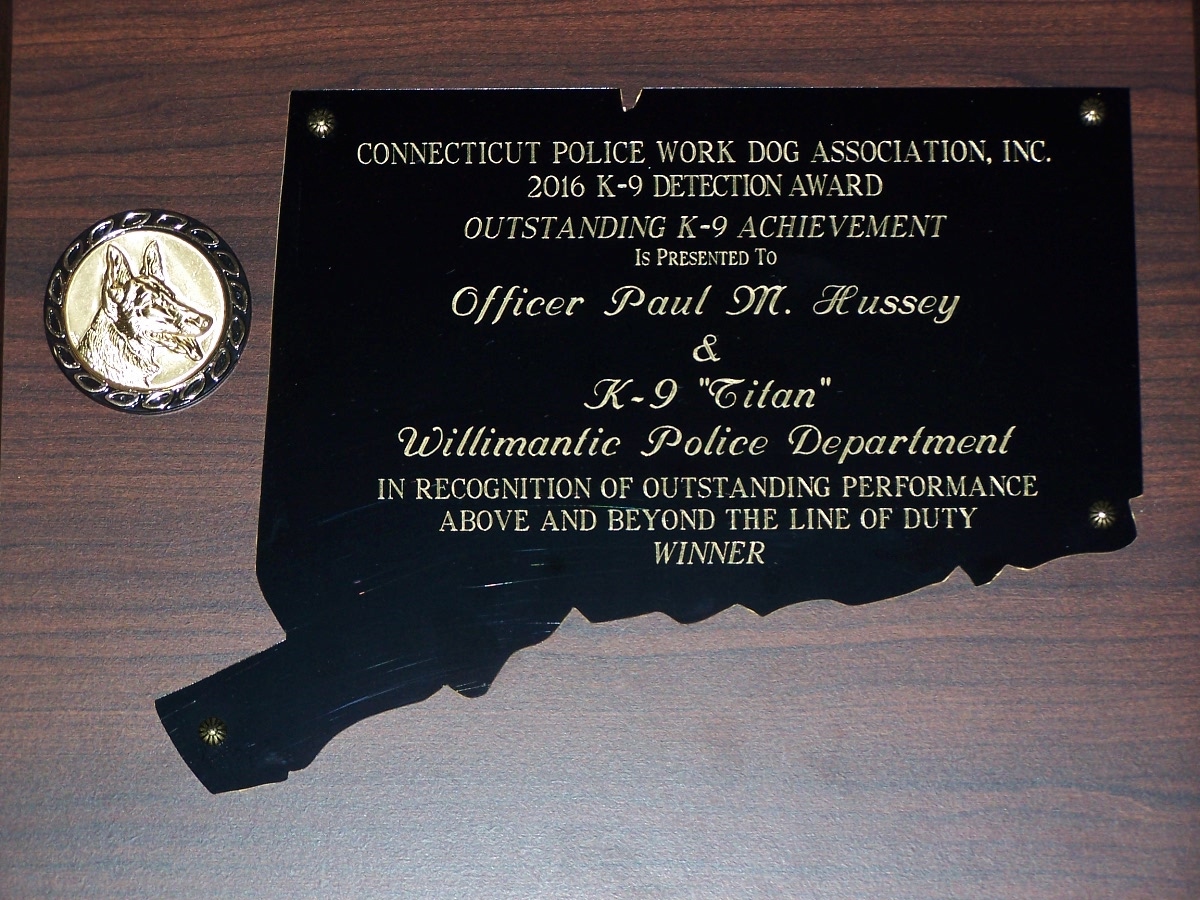 On 07/06/16 Officer Hussey and K9 Titan assisted the Detective Division with the execution of a Search and Seizure warrant in Windham CT. Detectives had information that Narcotics may be buried somewhere on the property. Upon being directed to search K9 Titan in the yard area ,K9 Titan gave an indication on a fence post, Detectives disassembled the post but did not locate any narcotics but upon digging in the ground beneath the post,Detectives located a plastic bag containing Cocaine. K9 Titan gave several indications throughout the property on ground level and as a result of Detectives digging up the indication areas a total of 495.9 Grams of marijuana, 190.5 Grams of Crack cocaine, 486.4 Grams of Cocaine, 85.6 Grams of Heroin, 80 Grams of Fentanyl . Detectives brought in an excavator and with the assistance of the extra equipment a buried firearm was also located.

2016 Detection Tracking Award
Officer Matthew A. Sloate & K9 Marley
New Britain Police Department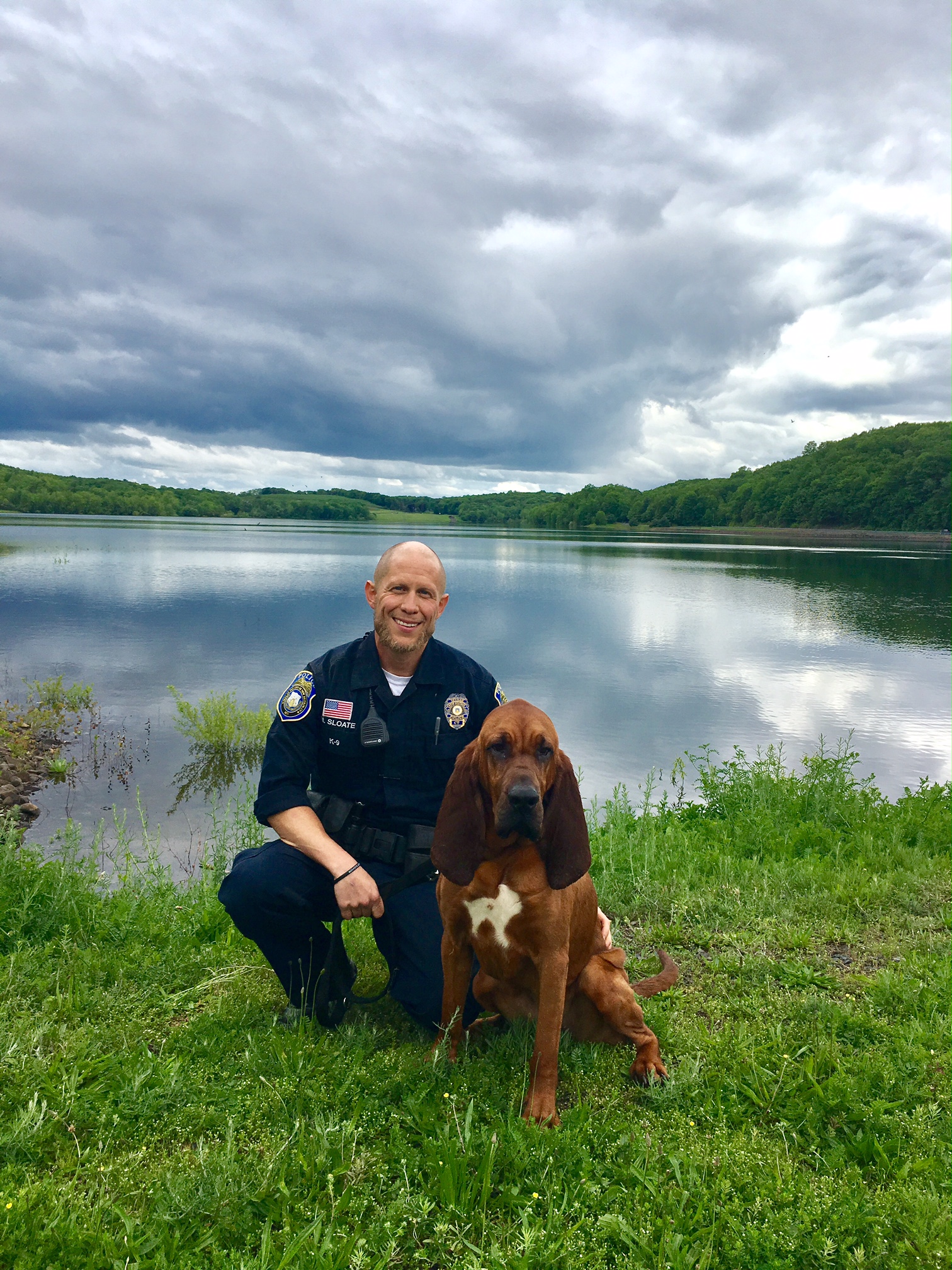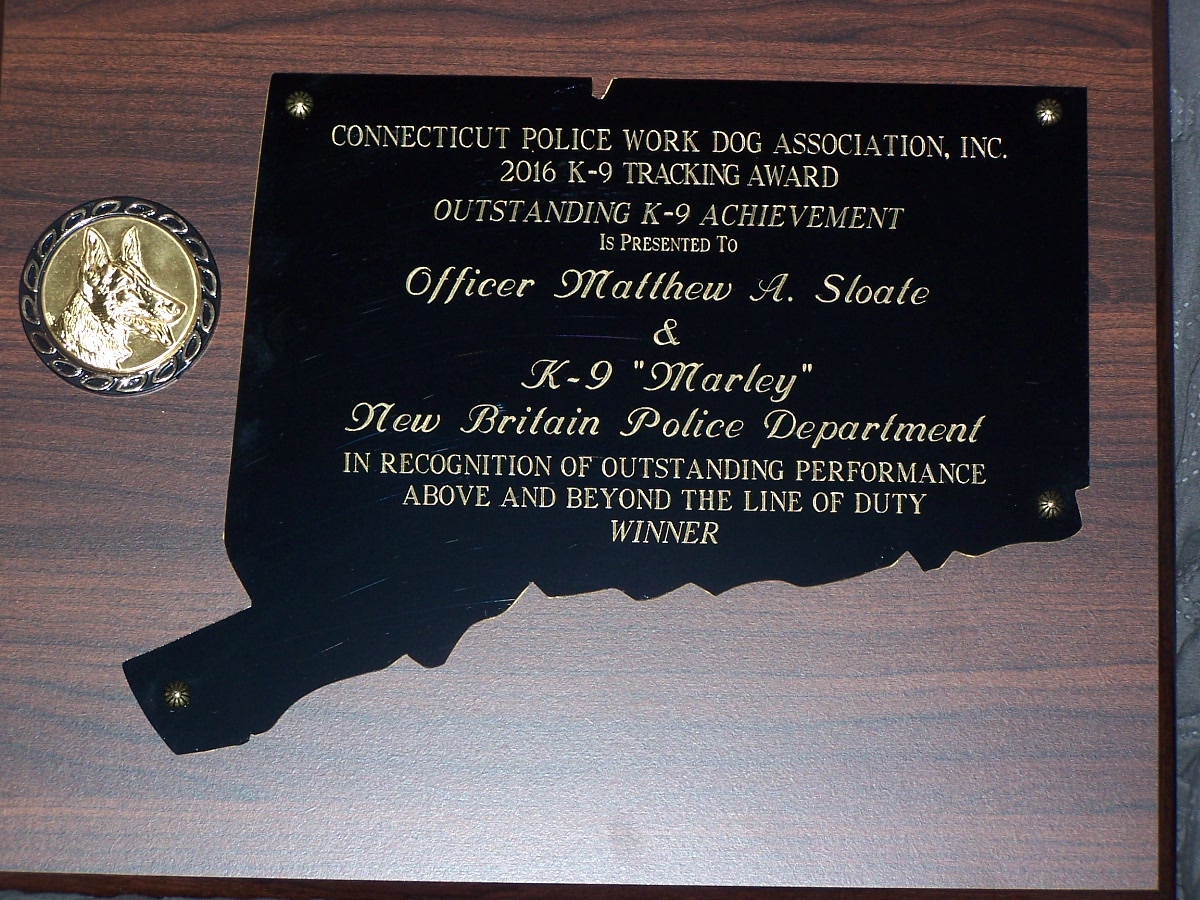 On 11/13/16 Officer Sloate and K9 Marley was dispatched to assist in locating a 77 year old person with dementia and a known history of strokes. It was late at night,cold and windy adding to complexity of the situation.Officer Sloate obtained a pillow from the home of the missing male to use as a scent article and began his track. The Track lasted over 45 minutes and over 2 miles to where they were successful in locating him. he was treating for exposure at the Hospital and released.