K-9's In Action
Officer Dennis Bradshaw & K9 "Justice"
Monroe Police Department
On June 26, 2006, a vehicle was pulled over occupied by two men ages 24 and 25 from Trumbull for an obstructed windshield. Upon checking the driver's information, it was found that the driver was driving under suspension. Officer Dennis Bradshaw and K-9 Justice searched the vehicle after being pulled over on route 25 in Monroe. K-9 Justice indicated the vehicle contained drugs. The vehicle's trunk was opened and a backpack filled with seven plastic bags containing more than 1 pound of marijuana was found. The trunk also contained items to cultivate marijuana, including a black light, three bags of potting soil, two magazines, and a book on how to grow marijuana. Rolling papers, pipe, two cell phones, scale and $2,283 were found in the glove compartment and seized. Both men were charged with possession of drug paraphernalia, distribution of marijuana and possession of more than 4 ounces of marijuana. The driver of the vehicle was also charged with driving with a suspended license and obstructed windshield. Bonds for both men were $10,000. K-9 "Justice" has 54 assist narcotic arrests from January 1st to date and career stats of 167 narcotic arrests.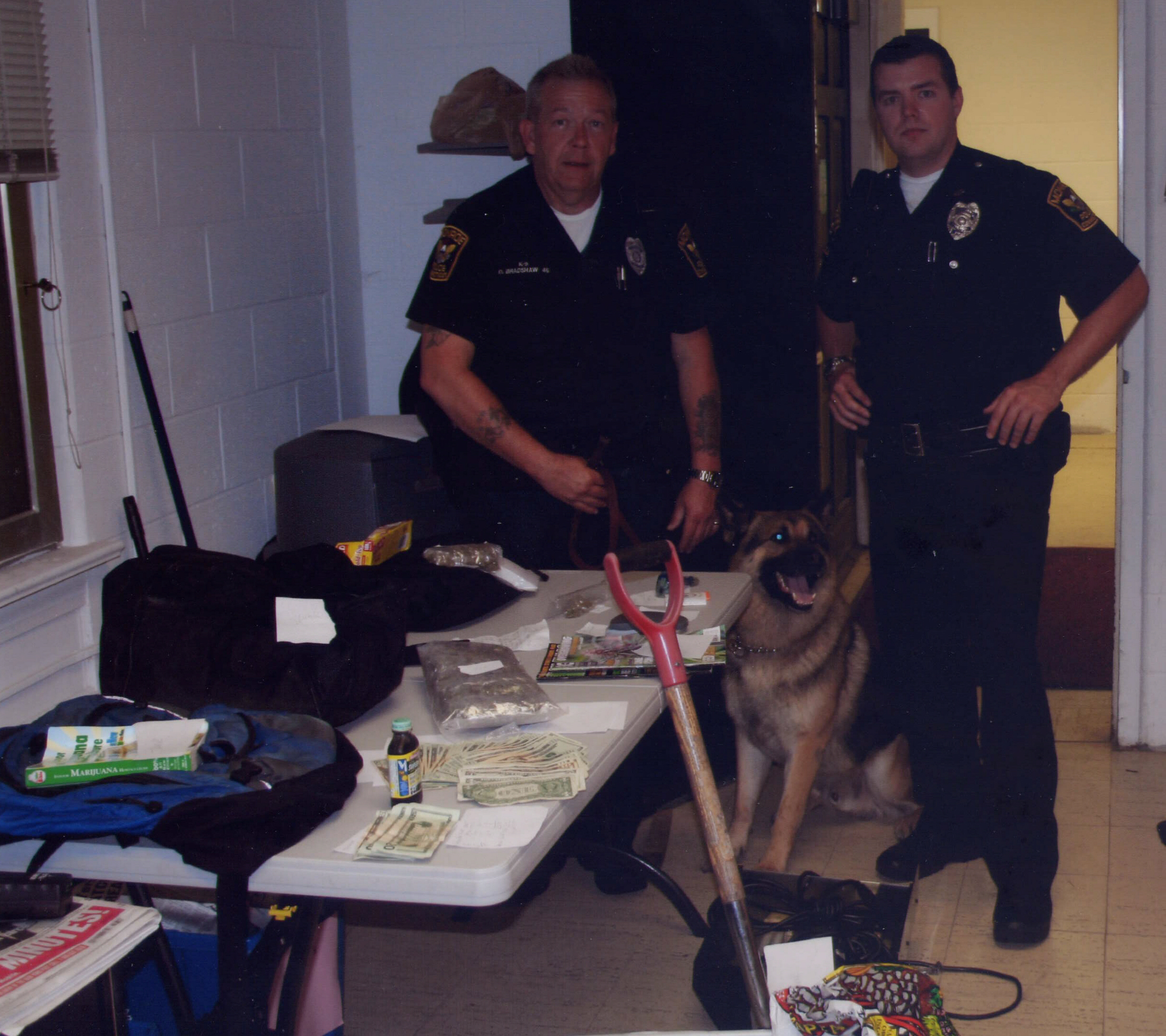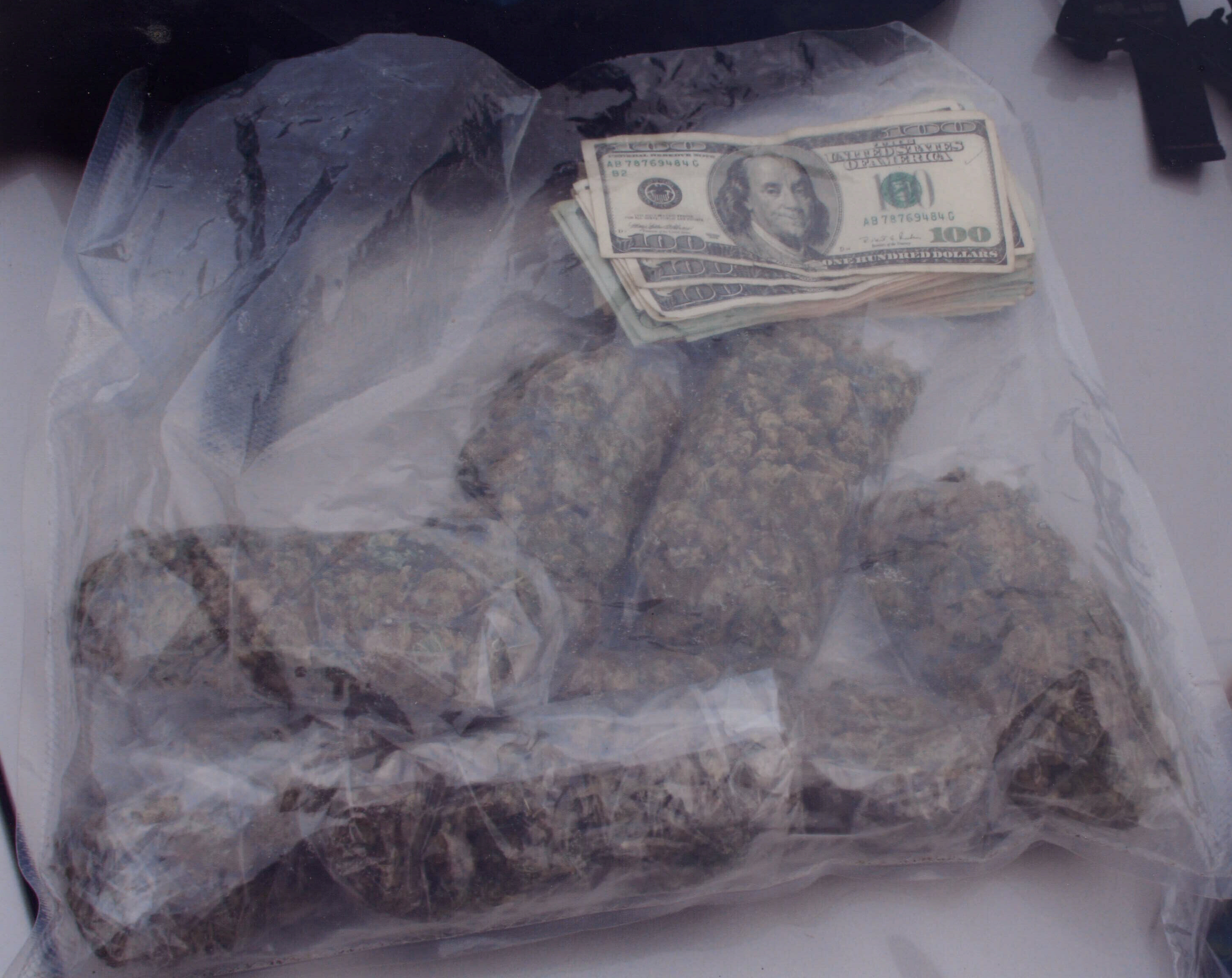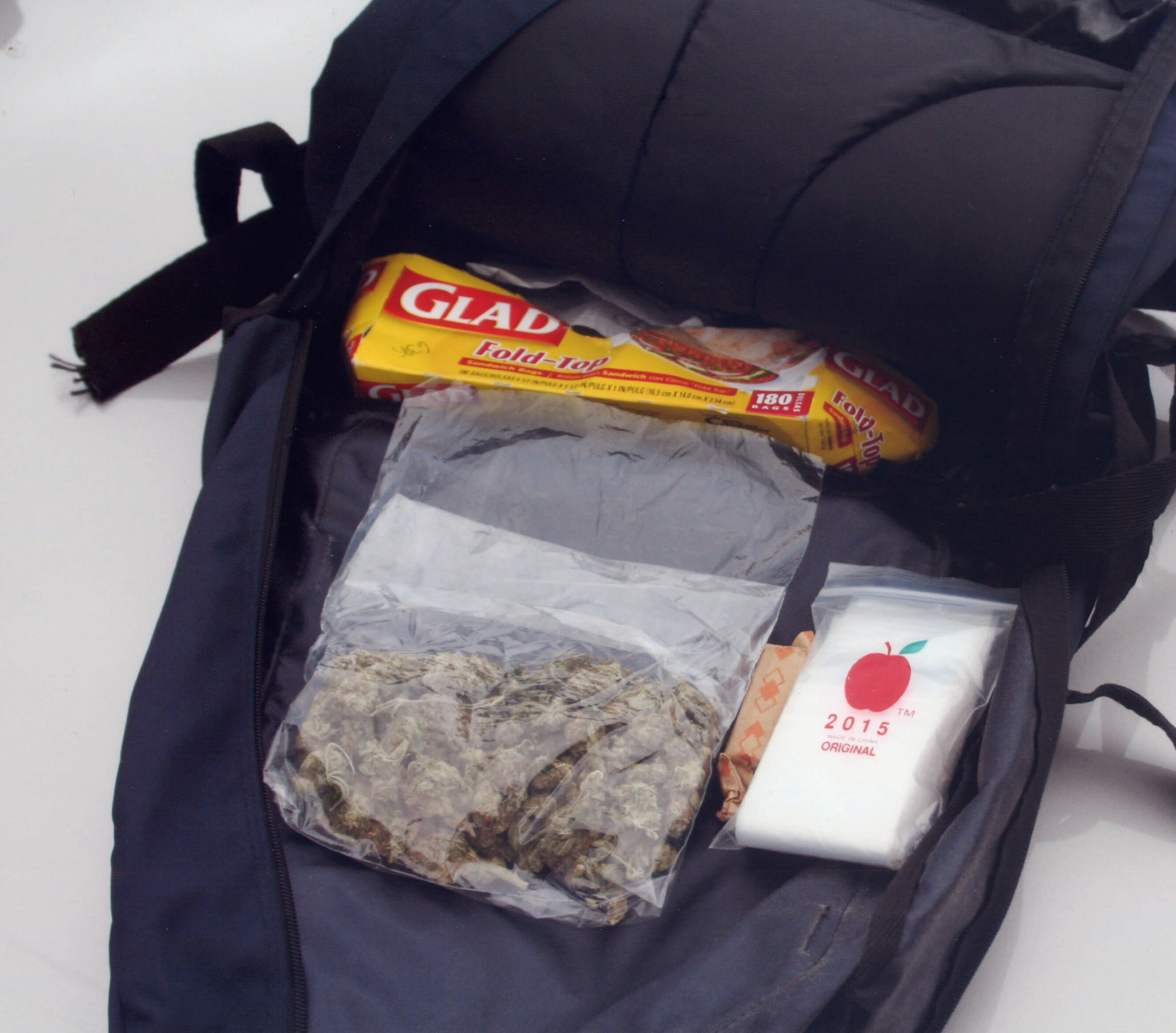 _________________________________________________________________________________________
Officer Humberto Morales Jr. & K-9 "Niko"
New London Police Department
On 10/26/05 at approx. 1702 hours, Officer Morales Jr. was on routine patrol in full police uniform and operating marked police cruiser 64 accompanied by his Police K-9 partner Niko. At approximately said date and time, New London Vice and Intelligence Officers Potts and Clark requested that Officer Morales Jr. conduct a motor vehicle stop on a blue Buick bearing CT marker plate 520TPL. He then activated his cruisers emergency lights and siren and stopped said vehicle occupied by two Hispanic males at the intersection of Blackhall St. and Garfield Ave.
The front right seat passenger was identified and currently had an active arrest warrant for numerous felony charges to include but not limited to, sale and possession of narcotics, interfere with an officer, risk of injury to a minor and tampering with evidence held by Middletown CT Police Dept.
The suspect would not comply with numerous lawful orders to exit the vehicle. Officer Morales Jr. then observed both Officers Potts and Clark attempt to kick and pry open both the front driver's and passengers side windows. Said attempts proved unsuccessful.
Officer Morales Jr. then observed a brief struggle inside of the stopped vehicle between the two occupants. The vehicle then continued down Blackhall St. toward Connecticut Ave. He then followed said vehicle with my emergency lights and siren activated in an attempt to stop said vehicle. Just past the intersection of Connecticut Ave. and Blackhall St. He observed said vehicle briefly slow down and the driver, later identified, exit the vehicle as if he was pushed or shoved out of the moving vehicle.
The vehicle, now operated by the suspect, continued on N/B Connecticut Ave. and turned W/B onto Cedar Grove Ave. Said vehicle then continued N/B on Colman St. and then E/B on Bayonet St. The vehicle then continued N/B on Briggs St. then made a left turn W/B on Williams St. The vehicle then made a left turn S/B on Briggs St. and then made another left turn onto the I-95 N/B on-ramp. The vehicle then made an extremely sharp and sudden left turn crossing W/B across all N/B lanes on I-95. The vehicle then lost control and crashed into median divider. The suspect then fled on foot W/B crossing I-95 S/B lanes headed towards Bailey's Circle.
During said pursuit, the suspect violated numerous traffic laws as he recklessly maintained and increased his speed of travel in attempts to elude apprehension. The suspect's actions placed all innocent bystanders occupying the busy roadways and pursuing officer's lives in extreme danger, therefore creating a serious risk of injury and/or death. The suspect was able to elude officers now pursuing on foot in the Bailey Circle area. Patrol officers quickly established a perimeter to facilitate a K-9 track of the suspect. CT State Police dispatched Trooper One helicopter to assist in the search of the wanted suspect.
Prior to Officer Morales K-9 deployment, he was cautioned that the suspect has a history of fighting with police officers and that he uses illegal narcotics. In addition to the active felony warrant, he was now wanted for Assault on a Police Officer, Escape from Custody, Possession of Crack Cocaine, Larceny 1st, Reckless Endangerment, Engaging in Pursuit and several other felony charges.
While in the area of Bailey Circle Officer Morales Jr. gave K-9 Niko the command to track. K-9 Niko immediately indicated to the presence of fresh human scent and began tracking while attached to a ten-foot leather lead. K-9 Niko and Officer Morales Jr. cleared several heavily overgrown areas filled with heavy brush, thorns and poison ivy vines. K-9 Niko continued to track through several stationary eighteen-wheeler trailers parked in the Bailey's Circle area.
After approximately fifteen minutes of continuous tracking and searching, K-9 Niko gave a strong indication of fresh human scent as he pulled towards a particular eighteen-wheeler trailer. Said trailer was parked in the Bailey's Circle area adjacent to a chain link fence and small wooded area dividing Bailey's Circle and I-95 S/B (Exit 84 off-ramp). K-9 Niko continued to give strong physical indications that he was close to the source of the human scent.
Knowing that Officer Morales Jr. was tracking a dangerous and reckless wanted felon and having now found himself in an overgrown area not likely to have innocent bystanders he gave K-9 Niko the command to engage the suspect if located. K-9 Niko continued to track the adjacent area and later tracked underneath said trailer into an extremely tight and cramp space. The only way for and adult male to enter such a cramp location was to crawl in.
After K-9 Niko entered said area, Officer Morales Jr. heard a male voice yell from underneath the trailer. He could not see the male since he was very well concealed. K-9 Niko then countered with his legs causing the male to come out from concealment. Officer Morales Jr. then observed that K-9 Niko had engaged the suspect. The suspect was initially fighting K-9 Niko and would not reveal his hands, so he could not assess if he was armed or not.
The suspect later complied with Officer Morales orders to make his hands visible. After he was able to determine that he was unarmed, he informed him to keep his hands clearly visible. He then gave K-9 Niko the verbal command to disengage, which he did so immediately. Assisting officers then took the suspect into custody without further incident.
The suspect was transported to L&M Hospital by ambulance. While at the hospital, he was treated for K-9 bite injuries sustained during the K-9 apprehension. The suspect sustained bite wounds on his left calf area and right bicep area. Sgt Cavanaugh took photos depicting his injuries.
---
Officer Kenneth Mellor & K9 Harley
East Lyme Police Department
Two teenagers were arrested early Tuesday morning , 6/28/05, after K9 Harley followed their scent from one of the 10 cars that were burglarized. A woman called police at about 3:00 am to report that a motion - detector device on her property had been triggered. K9 Harley, tracked a scent from the car to a body of water near Old Black Point Road, where they found a 15 year old hiding. The 15 year old entered 10 unlocked cars and stole change, an MP3 player and some other items. Both were charged with 10 counts of third degree burglary, sixth degree larceny and third degree criminal mischief.
---
Officer Thomas Clements & K-9 "Zak"
Stratford Police Department
Stratford Police Department's 3-year-old German shepherd, Zak, sniffed out a cache of marijuana that could be the largest ever for the town of Stratford on January 20, 2005. K-9 "Zak" alerted on eleven boxes at a local shipping company that had 469 lbs of marijuana that had been stuffed with clothes in an attempt to disguise the scent. The find had a street value of $1.2 million. A supervisor at the shipping firm, ABF Freight Systems, notified police because of the weight of the packages and the way they were packaged. ABF employees also told police that individual had been coming to their facility for two years to pick up boxes, rather than having them delivered to their Waterbury address. They contacted police on Thursday because they had received 11 boxes, rather than the usual three or four. He called the company inquiring about the shipment and saying he was going to pick it up. This raised the suspicion of the supervisor of the firm also because the freight company normally delivers. The 30-year-old male from Jamaica, who had addresses in Waterbury and Far Rockaway, NY, was arrested at ABF Freight Systems on Woodend Road at 4:30 p.m. after paying for the shipment and loading the boxes in his van that he tried to send himself. The individual was charged with possession with intent to sell one kilo or more of marijuana and possession of four ounces or more of marijuana. South Carolina author, Fern Michaels, who was touched by a story she read about Stratford's police dogs and a monument to them, contributed the money to purchase K-9 "Zak" who is certified in narcotic detection.
---
Officer Dennis Bradshaw & K-9 "Justice"
Monroe Police Department
On Sept. 9, 2004 at approximately 0110 hours this officer received a phone call at home from Sgt. Caulfield. He told this officer that Officer Collins had observed a missing teenager near the intersection of Rt. 111 and Rt. 110 run into the woods when he saw the officer. Sgt. Caulfield requested the K-9 unit to respond.
At approximately 0138 this officer arrived on scene and started a track at the area of the missing teen was last seen. K-9 Justice committed to a track immediately. He led this officer and back up Officer G. Smith across Rt. 111 in a westerly direction. The track led down through St. Jude's property, then onto Abby Road. Approximately 50 feet from the intersection of Church Street, Justice turned north across Abby Road and into the woods. The track then led through the new construction behind St. Judes then turned east back up to Rt. 111. Justice reached Rt. 111 and turned north, this continued up to the intersection of Rt. 111 and Moose Hill Road. We then crossed the road and entered the parking lot of St. Peters Church. Justice then led this officer to a set of stairs on the east side of the building. Here Justice showed interest in an unlocked door at the base of the stairs. Here I made announcements that I was entering the building with a K-9. I received no response. We then entered a dark room. Justice located the teen in the south corner of the room. Officer Collins took charge of the youth and I then cleared the scene.
---
Officer George Potts & K-9 "Sequoia"
New London Police Department
On December 23rd several officer's from the New London Police Department had stopped a vehicle and discovered the operator was driving under suspension. The operator had exited his vehicle then jumped back inside. Two officer's that were attempting to stop the operator, were dragged by the vehicle unable to let go. The operator stopped, then put the vehicle in reverse. Officer Potts was able to drive his cruiser into the rear of the vehicle thus halting it's movement and protecting the officer's from serious physical injury.

Officer Potts then exited his vehicle and attempted to take the suspect into custody. The suspect refused to go peacefully and offered violent resistance. K-9 "Sequoia" was deployed from the cruiser and engaged the suspect, this allowed the officer's to take this violent suspect into custody.
---
Officer Celeste Robitaille & K-9 "Groll"
Stratford Police Department
On February 4th, Officer Robitaille assisted the Valley Street Crime Unit with the execution of a search warrant in Shelton Connecticut. On arriving at the residence, a male suspect standing outside, hit an officer in the face and fled on foot. Officer Robitaille ordered the suspect to stop or she would release her K-9 partner Groll. The suspect stopped running and surrendered. During the search Groll detected various narcotics and paraphernalia that was hidden throughout the apartment and even a bag of marijuana that was thrown off a second story balcony.
---
Officer Timothy Wydra & K-9 "Justice"
Hamden Police Department
On September 27th 0fficer Wydra and K-9 "Justice were part of a large scale search for a missing subject that had walked away from his residence approximately 12 hours earlier. The subject was legally blind, had numerous health problems and was extremely depressed.

Numerous K-9 teams from both Hamden and the Connecticut State Police were searching the area. Officer Wydra began a track from the residence with his K-9 partner "Justice". Justice found the trail and began to track the missing person. Justice tracked for just over 1 mile locating the subject in a heavily wooded area. The subject was transported to Yale New Haven Hospital for treatment.
---
Officer Frank McDermott & K-9 "Hero"
Hamden Police Department
On October 27th, 2001 Officer McDermott was contacted at home, to respond and assist in locating a suspect involved in a shots fired call in New Haven. The vehicle had been seen leaving the scene when officer's attempted a motor vehicle stop. The suspect, driving a stolen vehicle, then led police from New Haven and Hamden on a pursuit for several miles and before crashing the vehicle into a wooded area behind a school. Officer's arrested the 2 passengers , but the driver had eluded them.

Officer McDermott scented K-9 "Hero" from the driver's seat and the canine quickly began to track the suspect. The team tracked for approximately 2.5 miles through many yards and across numerous streets. K-9 "Hero" found and apprehended the suspect on the rear deck of a residence. The suspect was taken into custody.
---
Sgt. Dale Call and K-9 "Mandy"
Westport Police Department
On March 2nd, Sgt Dale Call responded to assist in locating a suicidal female that had recently been dropped off by a city cab. The cab driver returned to the location where the subject had exited and K-9 "Mandy" was scented from the vehicles rear seat. K-9 "Mandy" located the trail and began to track into a plaza then through an arcade.

"Mandy" then worked into the "Onion Alley" and began to climb the stairs. As they did so, an employee advised them that officers had already been to the business and that no-one matching the description had had come or gone from the location. Sgt. Call trusted his K-9 and allowed her to continue. As she worked to the rooftop bar area back-up officer's followed, checking rest rooms and closets. The suspect was located hiding in a small closet. She was transported to Norwalk Hospital.
---
Officer Steven Vesco & K-9 "Jag"
Windsor Police Department

On June 28th Officer Vesco and Jag responded to assist Hartford Police Department locate 2 suspects that had fled from a stolen motor vehicle. When he arrived he was told that one suspect had fled through a fence then fell 40 feet onto the railroad tracks.

Officer Vesco began checking the area when his partner began showing indications that he was getting closer to the suspect in a wooded area near the train bridge. Officer Vesco made several announcements advising the suspect to surrender. He received no response and deployed his partner into the wooded area. K-9 "Jag" quickly located and apprehended the suspect who was then taken into custody without further incident.
---
Officer Arthur Fredericks and K-9 "Bodo"
Bloomfield Police Department

Officer Federicks and his K-9 partner "Bodo", tracked and located a suspect wanted for a home invasion. The suspect committed the crime while armed with a shotgun. During the incident the suspect had also assaulted the homeowner with a large knife.

Officer Fredericks and "Bodo" tracked the suspect approximately 2 miles in a steady rain before apprehending. The suspect had a large cut on his neck from and apparent attempt at suicide. The suspect was apprehended without injury to him or law enforcement officer's.
---
Doug Humphrey & K-9 "Jake"
East Windsor Police Department
by John Annese, Journal Inquirer
EAST WINDSOR - Less than a month after getting out of the canine slammer, Jake, the town's temporarily suspended police dog, helped save a Windsor Locks man from a drug overdose Saturday morning, police said.

Police said Jake - who spent a few days in the dog pound waiting for a new trainer after his handler resigned as canine officer last month - tracked the man to the bank of the Connecticut River after picking up his scent from an abandoned truck.

Hospital officials later told police that the man could have died if he hadn't received prompt medical attention.

According to police, a group of people came into the station at about 9:23 a.m. Saturday and said that their friend, David A. Marshall, 32, of 51 Grove St., Windsor Locks, who had threatened suicide the night before, had abandoned his truck on North Water Street.

Marshall's friends told police they believed he had taken a large quantity of pills and alcohol.

When police found the truck on Depot Hill Road in Enfield in the area of the railroad trestle, Officer Raymond "Doug" Humphrey offered to deploy Jake to help find Marshall.

"He's not on officially, but this was a case where this was a life-and-death situation," Humphrey said.

Jake was suspended from duty last month after Officer Jeffrey Reimer resigned as canine officer to take care of a newborn baby. Reimer will remain as a patrol officer in the department.

Police officials placed Jake in the town's dog pound for a few days before releasing him to Humphrey.

Humphrey, an experienced police dog trainer who worked as the department's canine officer in the 1990s, is taking care of Jake and retraining him for re-certification as a police dog.

Humphrey went to his East Windsor home to bring Jake to the truck.

Jake picked up Marshall's scent from the driver's seat, and followed one of several paths leading away from the truck, police said.

Officers followed Jake underneath the railroad trestle to Marshall, who was lying unconscious against a concrete support pillar near the river bank, police said.

The officers woke the man up and carried him back to the truck to wait for an ambulance. According to police, Marshall was disoriented and highly medicated, and could not answer questions about exactly what he consumed.

An ambulance took Marshall to Johnson Memorial Hospital in Stafford, where hospital personnel told police that the man likely would have died without timely medical attention.

Further information on Marshall's condition was not available today.